Who We Are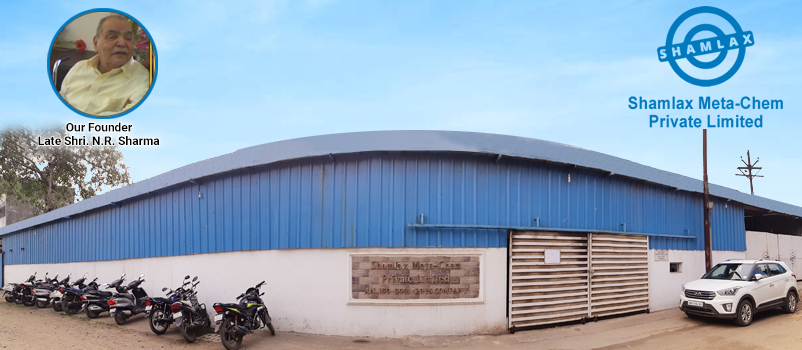 Shamlax Meta-Chem Pvt. Ltd. is an ISO 9001: 2015 certified company, pioneer in manufacturing colour changing ( on drying) foundry coating, professionally managed by a group of technocrats serving to the needs of high–tech industries for the last three decades, manufacturing & exporting various fine chemicals, foundry-fluxes & chemicals etc.
Shamlax group of companies, centrally located in Nagpur, India, was founded in 1967 under the able shoulders of our Chairman Late Shri N. R. Sharma, who had expertise in the field of metallurgical powder.
Mr. N. R. Sharma, a technocrat, having work experience with Dr. Homi Bhabha, founder of Atomic Research Center, started manufacturing pyrotechnic aluminium powder in 1966 as a replacement for imported powder from Germany.
He incorporated Hindustan Metal Chemicals, another flag-ship company of the group in 1971 to replace costly Atomized Aluminum Powder used in manufacturing of foundry chemicals & Fluxes. In 1987, He started Shamlax Polychem, jointly with his son Mr. Sushil Sharma, a chemical engineer, as a step towards catering to the needs of foundries in central India.
In 1990, Shamlax Meta-Chem Pvt. Ltd. was started at Nagpur. The unit is fully equipped with laboratory testing facilities for in house research & development. The current Board of Directors include –
Mr. Sushil Sharma - Managing Director; and
Ms. Anuja Sharma – Director, Marketing
Shamlax has always dedicated itself to the development and manufacturing of a wide range of high quality chemicals, to enable foundries & other industries to enhance the quality of their product & improve productivity. The group has further diversified into fine chemicals & products in manufacturing of thermit mixture used by railway, low carbon ferro-alloy etc.
Mission & Vision
To emerge as the global market leader in Foundry Chemical Industry and act as a major player in each of our market segments worldwide by offering world class products to our customers. To build "long-term relationship with our customers"
Our mission is to build loyalty among both our employees and customers' through constant technological innovations within the bounds of quality work, customer satisfaction & knowledge-transfer. To act as the reliable global business source for all Foundry Chemical & Fluxes items for all Steel / Alloy Steel / Cast Iron & Non-Ferrous castings such as Pumps, Valves, Mining, Power-plants & all other General Engineering sectors.
Our Company has built a successful countrywide business based upon its long-standing reputation in the industry. This reputation is one of the most valuable assets for our industry countrywide and is reflected in our core business values and our code of ethics as we have all satisfied customers countrywide.
Creating Value for our Customers -
Shamlax has been focused over many years on providing its nationwide operating customers with products that support their stainless steel, duplex & super duplex stainless steel, nickel based alloys, carbon steel, low alloy steel, had field manganese steel, Ni-Hard, Hi-Chrome, Cast & Machined component manufacturing requirements.
Our Strength
Lies in our ability to provide solutions and just-in-time delivery
Providing superior quality products adhering to applicable national & international standards
Flexibility in planning and development of Samples for approval and -
Lies in continuous improvement – constant learning is supported by the Company-wide Knowledge Management Programme.